5 drills for the striker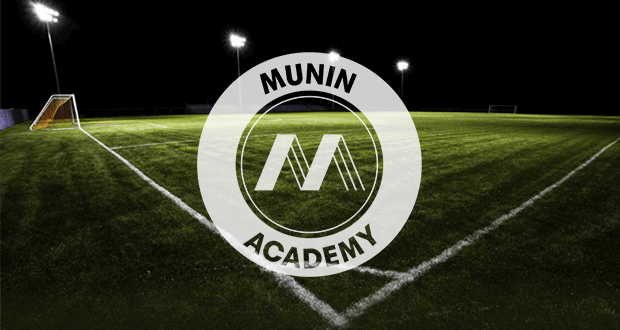 For a striker it's vital to be able to score goals, outrun opposition players and confuse defenders with amazing dribbling skills. The Munin m-station helps you with improving your skills through various football drills that you can do on your own in your garden or at the local football pitch. In this article we'll describe a few well-chosen drills that will improve some of those skills that are important for the modern day striker.
https://instagram.com/p/8IZ8lzmkNO/?taken-by=muninsports
Drill no. 1: Fast Feet
Fast feet are fundamental for the modern day striker. Look at strikers as Lionel Messi, Sergio Agüero and Alexis Sanchez. All these players use pace and speed as key attributes when challenging defenders. With this drill, you can improve your explosiveness, which gives you an advantage against the defender in the next game. This drill can be combined with other speed-drills shortly after the warm-up.
Drill no. 2: Pass & Move Instep Finish
As a striker it's truly important that you're able to score goals with first time-finishes. With the Munin m-station you can practice just that. No teammates are required– just the m-station and a goal. The m-station acts as your teammate from whom you receive the ball before scoring a brilliant goal with the instep finish.
Drill no. 3: Finish With Header
Regardless of whether you're short or tall, you'll have quite a few finishes with the head during a season. Thus, a player like Harry Kane scored 4 out of his 19 season goals with the head during the 2014/2015 season, while 14 out of Christian Benteke's 49 career goals for Aston Villa have been scored with headers. But even shorter players as Wayne Rooney (176 cm) and Gabriel Agbonlahor (180 cm) are on the top 10 list of most headed goals by active players in the Premier League. Therefore, it's important that any striker practices this drill making you a better header. Use the m-station and try different variations of heading the ball.
Drill no. 4: Cruyff Turn
Johan Cruyff is one of the best footballers this world has ever seen. The dribbling Dutchman was known for his deadly finishes, his quick-thinking and his innovative dribbles. Now, you can practice the moves of the former Barcelona-forward with the m-station. The drill will teach you and improve your Cruyff Turn making you able to change the direction of the play and confusing defenders with rapid turns.
Drill no. 5: Two-footed Control
When having the ball in tights areas in the box, it's absolute key that you'reable to control the ball with both feet in awkward situations. This drill will help you improve your ball control with both feet giving you the ability to pass the ball to an open team mate.