Details, details, details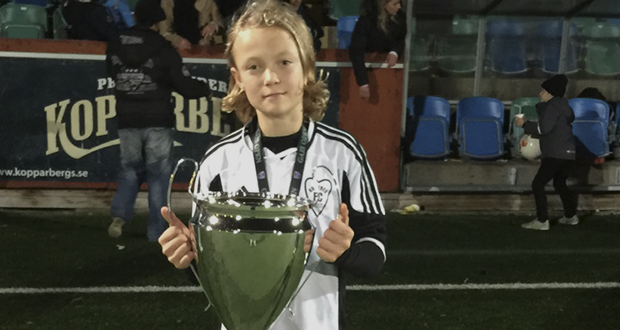 15-year-old Herman Sjögrell has already experienced multiple of Europe's biggest clubs at at close quarters, and this is because of his sky-high level of ambition, seriousness and daily self-training sessions.
One of Sweden's biggest football talent's is named Herman Sjögrell, and that has not gone unnoticed. The young Swede has been at tryouts in several of Europe's top clubs, including Tottenham, Manchester City, and AC Milan. Also Danish F.C. Copenhagen has had the midfielder on loan for a youth tournament.
If Sjögrell fulfills the great potential that is obviously recognized around him, he will be able to thank himself for the effort that he has put into the game since he was a very young lad. Because, self-training is a big part of the daily life for the merely 15-year-old Swede.
"I believe that supplementary training is what makes the extra small difference on the field. Without self-training, it's difficult to reach the top."

"The team practices will not always make space for the things you need to practice. Self-training does that, and it will also make you focus on your weaknesses and fine-polish the qualities that are essential to you as a player. I think it's important to prioritize the extra training," he explains, although he doesn't reveal how much spare time he leaves out to the supplementary exercises. But he makes it clear that it's a daily routine.

"For my part, I train every day club practice is off. All kinds of training that benefits football is important. It has made me the player I am today."
Demands a greater focus on self-training
Even though Sjögrell is young, he thinks that self-training should be given still greater importance. Especially in Sweden there needs to be a greater effort for the young players – as in the great European clubs.
"I certainly believe that we need to make more time for self-training here in Sweden. The professional clubs in Europe do exactly that, and I think it has something to do with the clubs provide their players with a professional mindset from an early age. They live football," the midfielder explains with a clearly passionate ring to his voice.
But when the clubs in Sweden don't emphasize self-training enough, you've got to do it on your own. For this reason, Herman Sjögrell has also put his mind to living football. And the only substantial way to do that is to train durable qualities.
"I practice a lot of different things that will pay off in the long run. That is, technical qualities as a football player. For instance I focus on my finishing and ball control – the things that are most important in my position. Details, details, details," he points out.
Great ambitions takes great seriousness
He currently plays in BK Häcken, but in his former club,  Angered MBIK, a few miles north from the Swedish major city Göteborg, he played along Kevin Ackermann, who has been at tryouts with Manchester United. In that way Herman Sjögrell is a part of a quite talented year group.
"Many players from my team have ambitions in the football world and self-trains for that reason. To collaborate with friends while training can make it even more fun, but it's also important that the self-training stays serious."
One of the ways Sjögrell has improved as a footballer is by focusing on and realizing his weaknesses. He has also found the easiest way to practice exactly that with the m-station football rebounder from Munin Sports, and he advises you to do the same.
"Try to create the best circumstances based on what you already can. For me, training with my m-station is easiest, because I can do it at home. It's great exercise, it saves me time, and it's fun," he explains and goes on:

"I have an m-station, and it helps me with the things I find most important – the technical aspects. I usually practice my first touch, volleys, passes, and to keep the ball in the air. 

"Every time I use m-station I am having fun, and I sharpen my technique. There's a lot to gain from just half an hour of training."

 
How to become a better finisher with the m-station football rebounder
How to practice turns with the m-station football rebounder

How to practice first touches with the m-station football rebounder