"I want to be the best female football player in the world"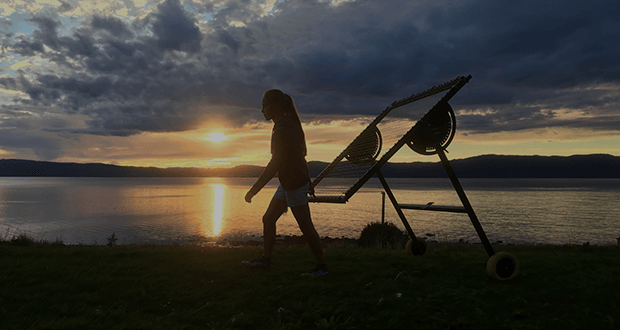 Kristin Gumaer knows exactly what she wants to do with her life: she wants to be a professional football player, and she's already working hard to achieve her goal. Her love of football is immeasurable, and if her skills reach the level of her passion for the sport, she will realize her dream before long.
Kristin Gumaer is not a name that everybody recognizes, but that very well could change ten years from now.
Gumaer was born in 2001, and she comes from the small Norwegian town of Frosta, located between Levanger and Trondheim. She used to train three times per week with her team, Neset FK U16, which plays in the first division. But this was not just any team; it was the club's U16 men's first team!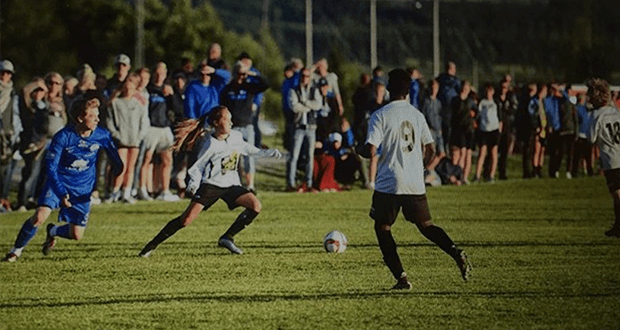 Self-train every day to become the world's best
As you can sense, Kristin Gumaer isn't your average girl. She's a footballer to the bone, and the young Norwegian spends most of her spare time playing football. In addition to three weekly team practices, she spends two or three hours each day self-training so she can reach her ultimate goal: to become the best female football player in the world.
–Self-training is very important to me. With the club, I train about three times per week, which in my opinion is not at all enough if you want to be a professional. That's why I started self-training (also because I love playing football, of course). There's nobody telling me that I need to practice more; it's purely my own choice.

I self-train almost every day. Some days I do strength training, while other days I'll work on technique and speed. On average, I train two to three hours per day. I think this will help me in the football world. My coach and I have seen progress since I started self-training and going all in on football, so I think self-training will be crucial moving forward, she says.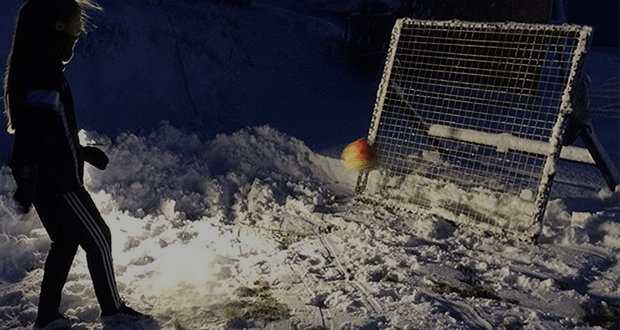 Practice with the m-station for hours: "It never gets boring!"
Gumaer is a midfielder, and she distributes the ball with great confidence. It takes proper technique and precise passing to distribute the ball effectively, so Gumaer has worked on her technique and passing a lot.
I've spent a lot of time practicing my passes (short as well as long), and also my finishes and dribbling. For dribbling, I've used cones in many different formations. For example, I zig-zag between the cones so I can train both feet. It's a very simple exercise that's good for training technique, she says.
One thing that has helped Gumaer in her self-training is Munin Sports' m-station, which she uses every time she practices on her own.
-The m-station has helped me a lot in my self-training. I use it for every kind of exercise, but I've felt the most progress when it comes to my passes and first touches. I can make passes with my m-station for hours without getting bored."

"I use it on a daily basis. It's a teammate that never makes a mistake. If you make a good pass, you'll receive a good pass. This is one of the unique features of the m-station rebounder, she says.

Here are examples of how you can do these exercises with the m-station
But the ambitious Gumaer doesn't only focus on ball work. She also makes sure to train her body, which is also important.
-Some days I train without the ball; for example, when I'm training speed, strength, and balance. Those are equally important on the field, Kristin says.

Do you want to develop fast feet and be able to measure your speed? Watch the following to learn how:

Inspired by her idol, Alex Morgan
Neset FK isn't a top level professional football club, so Gumaer deciced to move to Ranheim, where the Toppserien team Trondheims-Ørn is based, to play play women's football at the highest level. That club is noted for having featured 40 Norwegian national team players since 1975. Brit Sandaune and Unni Lehn are among the most famous of those players, with 119 and 134 caps, respectively. Neither of them, however, is Gumaer's hero. Her biggest inspiration is the Orlando Pride player Alex Morgan.
-I often use the Internet to find motivation. Youtube, for example. There I can watch my role model, Alex Morgan from the USA. She inspires me, but honestly I love football so much that I don't need any external motivation for training. If you want to be a pro, you have to love the sport. That's what I think, at least, she says.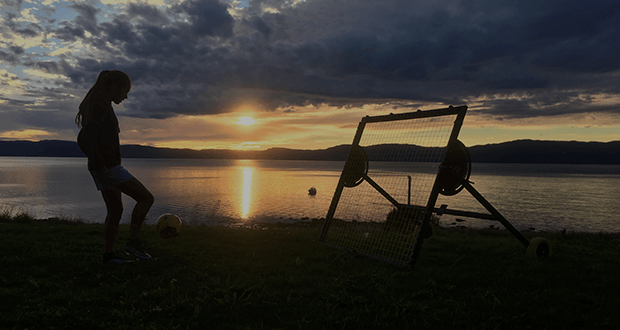 But how do you go about self-training?
Gumaer has an idea:
-One thing that helped me get started with self-training was to set some goals to work towards, she says.
Who knows? If you self-train as much as Kristin Gumaer, you might just meet her at the 2027 World Cup.