Improve your technical skills during winter with a rebounder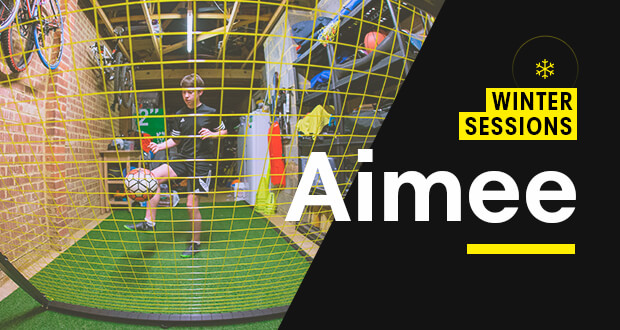 For most footballers, winter break is all about staying in shape for spring season. The pitches are either muddy or frozen, and playing on them increases the risk of injury. Also, at most clubs it is prohibited to play on grass pitches during winter because it may ruin the soil and the grass, making the pitches unusable for spring matches.
However, for 11-year-old Aimee, who plays for one of the best U12 ladies teams in England, wintertime is not all about fitness and staying healthy during Christmas. With her own rebounder at home, Aimee can practice her technical skills without being limited by poor weather or unavailable grounds.
A home setup suited for multiple training drills
Aimee's team is part of a UK-based FA Regional Talent Centre and FA Talent Pathway, which are reserved for the best female footballers in England. According to her father, she uses the rebounder multiple times every week to continuously improve her technical skills.
"At the moment, she might practice a couple of times per week, specifically indoors and with the rebounder. The space we have is quite limited but the rebounder allows Aimee to work on her control and touch. She will typically spend up to 30 minutes at a time using the rebounder."
And because of the flexible design of the rebounder, Aimee is not restricted to just one or two drills.
"At setting "0," she works on first-time passes and effectively uses the rebounder as a wall. This is helping to develop her control and touch on her left foot. She is right-footed, but her left is getting there! When she has the rebounder set at position "8," she works on her volley touch."
Despite a lack of space at home, Aimee still gets a good workout without having to take risks on bad pitches. Not only does this keep her body in shape, but it also helps her focus.
"Using the rebounder over winter—when local playing fields are incredibly muddy and it is almost dark when she returns home from school—is allowing Aimee to work on and develop her touch, and it gives her legs a bit of a workout. She has been on her toes to work on those calf muscles. But also quite importantly, using the rebounder helps develop her concentration."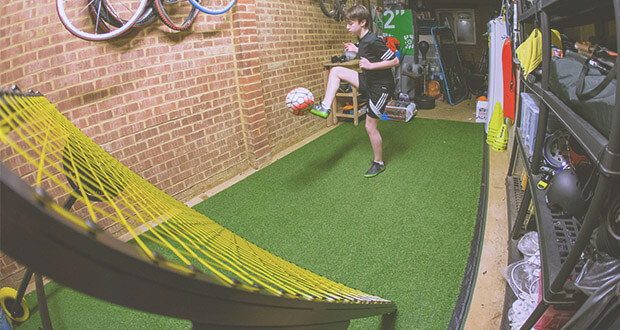 "I can test myself and try to beat previous records."
For ambitious young footballers like Aimee, only practicing during spring, summer, and autumn does not cut it. With a rebounder, Aimee can train on her own instead of relying on teammates to join her in training sessions.
"I have gone from 36 the first time I tried volleys to 358 the last time I tried. Using the rebounder also lets me practice without other people; I can just go to the garage whenever I want and do some drills."
In short, Aimee is happy with her rebounder. It is a tool that allows her to practice when other players cannot.
"I enjoy using the rebounder as I can test myself and try to beat previous records."