How to improve during winter without team training sessions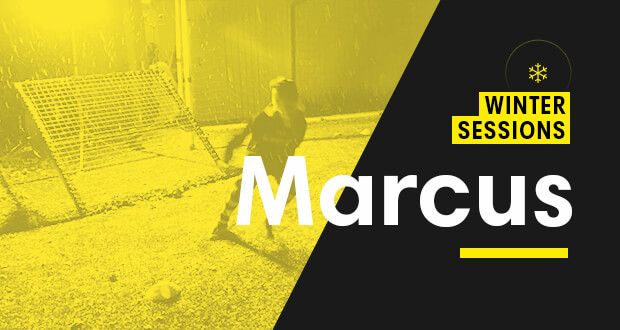 During the cold winter months, it gets dark early and football pitches are not in playable condition. Team training sessions are more likely to be cancelled due to snow, frost, and wind, so ambitious young footballers have to find alternative ways to train their technical skills.
We asked young Danish holding midfielder talent, Marcus from Lyngby BK, about this issue.
"Sometimes the team training session is cancelled due to bad weather. At times like that, it's just really nice to be able to go out in your backyard and practice with a rebounder."
It's extremely demanding on your body to spend 2-3 months performing only physical training, and without some technical training during that time, most players will feel rusty once they get back on the pitch in spring.
"I use the m-station football rebounder multiple times per week all year round, possibly even more during winter. It gets dark earlier and becomes harder to play ball outside, but my dad bought me a couple of lamps so I can play regardless of the hour of day."

Marcus uses the m-station in winter to develop his technical skills despite bad weather conditions. Instead of running and doing push-ups, he improves his skills through multiple drills using the rebounder.
"I mostly use the rebounder for passes, first touches, and other areas of ball control. Sometimes I even use it as a free-kick wall so I can practice free kicks."
The benefit of being able to train by yourself
The versatility of the rebounder is what Marcus loves most about the m-station product. You don't need to depend on other people to play with you, but if other players would like to join you, it only adds to the fun.
"With the m-station, you can play by yourself. It's like having a friend to play with. But the rebounder is also fun to use with other players. You can challenge each other and push your limits."

But the rebounder is by no means a toy; it's a serious tool for development regardless of your position on the field. It allows you to work on anything you need to improve.
"You can practice quick feet and quick thinking, and for me, as a DM (Defensive Midfielder), I use it to practice low passes and turning with the ball, which I do a lot in my position, but you can also practice plenty of other stuff appropriate for other positions."
Marcus has already noticed the results of using the m-station. He feels more confident both in training sessions and in competitive games.
"[Training with the m-station] has given me more confidence when I make and receive passes. I keep getting better at receiving the ball, regardless of how hard it is to control the ball. My accuracy and my ability to quickly move and react are also steadily improving."
Marcus recommends the m-station for winter usage.
"My control of the ball is continuously getting better. The m-station rebounder is an especially convenient tool during winter, as it helps you stay in shape during the holidays and when training sessions are cancelled."