Enhance Your Goalkeeping Skills with the m-station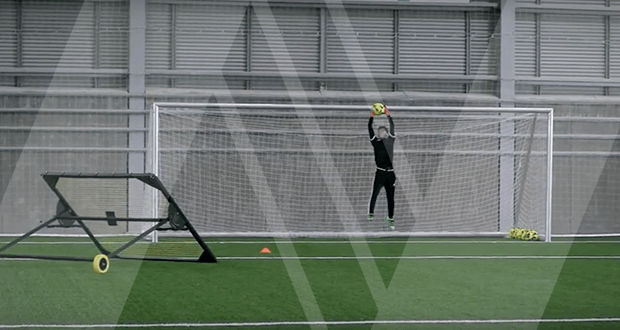 As a goalkeeper, you have a skill set distinct from that of every other player on the field. You might not have the best raw skills on the ball, but your position is arguably the most important one on the field, as every mistake you make is costly. The pressure of being a goalkeeper is something only very few can cope with, but by practicing the right exercises, you can learn how to become a better goalkeeper, which ultimately will increase your confidence on the field.
The m-station football rebounder allows you to improve every aspect of your goalkeeping. In this article, we present 5 examples of how you can improve your goalkeeping using the m-station football rebounder. If you feel like taking your goalkeeping skills to the next level after watching these m-station drills, you should sign up for the NEXT11 training program here to receive new drills every week.
1. Handling — Aerial dives and catches
Being able to handle and catch shots is what most people think of when speaking of goalkeeping. It is extremely important as a goalkeeper not to allow rebounds, and this drill teaches you how to make sure that you catch the ball and not give the attacker a second chance to score a goal. The way you approach the ball in the air is critical to the outcome of the action, and this drill teaches you how to position yourself, jump, and catch the ball correctly.
Stand in your start position with your weight on the front of your feet and your hands in front of your body. When you take off reach for the ball with both hands and make sure that the leg closest to the ball points diagonal forward. Try to catch the ball at a forward going movement.
2. Jumping Reach — Catching high balls from the side
For defenders, having a goalkeeper able to catch high balls from crosses is calming and reassuring. Goalkeepers have the benefit of being allowed to use their arms and hands, so in theory, goalkeepers should always have the advantage over attacking players when high balls enter the danger zone. However, goalkeepers with poor aerial skills are quite common nowadays, and such poor skills often lead to unnecessary goals. This drill will allow you to become a better goalkeeper in the air, and a goalkeeper with a strong aerial presence boosts the confidence of the entire team.
Start the drill by making an early forward-moving take off. Make your last step longer than the preceding ones, catch the ball high in the air, and try to land on one leg.
3. First touch — Receiving and passing
In modern football, most top goalkeepers are not just good shot stoppers; they are technically adept with a strong sense of outfield player movement. Manuel Neuer is a great example of why having a technical and skilled goalkeeper (who is almost as technical with the ball as an outfield player, in Neuer's case) is greatly beneficial. Neuer functions as a libero, also known as a sweeper keeper, due to his superior awareness and technical ability. The ability to participate in the game like this is becoming increasingly important for goalkeepers. With this drill, you can practice your first touch as well as your passing, and you will learn how to put yourself in a position on the pitch where you are able to help your defenders when under pressure.
To begin, take the ball with your front foot. Pull the ball past your standing foot and accelerate after the ball.
4. Reflexes — Close-up shot stopping
Goalkeepers are often defined by the strength of their reflexes. Reflexes are at the core of goalkeeping, and being able to stop shots properly largely depends on the sharpness of your reflexes. Gianluigi Buffon, David de Gea, Manuel Neuer, and Joe Hart are all incredibly strong shot stoppers due to their reflexes, and it is fair to conclude that these players would not be as decorated as they are if they did not have reflexes of the highest level. Improving your reflexes takes time and determination, and in some cases your physical traits limit you from reaching the absolute top level, but this drill allows anyone and everyone to improve in this particularly important area of goalkeeping.
To do this drill, start by making a fast turn towards the rebounder or wall as soon as you have thrown the ball, and focus on keeping your balance when you turn. Keep your hands in front of you.
5. Throwing — Overhead throw
When you want to punish the opposing team for over committing on offense, utilizing the space behind them is important for increasing your chances of scoring a goal on a counter attack. Throwing the ball with an overhead throw is much more accurate than kicking the ball to an outfield player, and with the right amount of space granted, a quick throw from the goalkeeper could very well lead to a goal. Much of Leicester's success in the 15/16 season came down to Kasper Schmeichel and his ability to throw the ball out quickly in order to initiate a counter attack. There are different ways of throwing the ball as a goalkeeper, but this drill focuses on the overhead throw.
Make your last step longer than the preceding ones. Point your front foot in the direction you want to throw the ball. Hold the ball between the palm of your hand and the lower part of your forearm. Point your free hand at the spot you want to hit, and let go of the ball.
If you have any questions about the m-station or these drills, please do not hesitate to get directly in touch with our coaches at coach@muninsports.com.